Golden Gate Theatre | San Francisco, California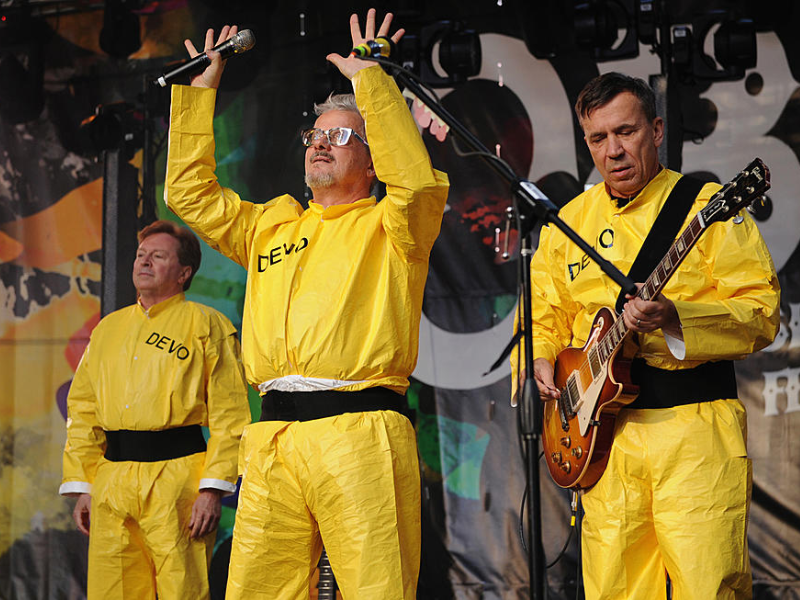 Devo's going out the only way they know how—with reckless musical abandon this coming Sunday, November 5, at the Golden Gate Theatre! Your favorite new wave band extends its "50 Years of De-Evolution" farewell tour to give fans extra chances to meet them one last time after their sold-out UK and Europe series. The long-awaited return to San Francisco, California, will be hosted by the Golden Gate Theatre, a stunning indoor performance venue where historical splendor meets cutting-edge concert technology. Devo's legend rose from eccentric sci-fi themes, surreal social commentary, and satirical humor infused in their musical and visual styles. "Whip It," a Billboard Hot 100 14th-place hit, was their crowning glory, a groundbreaking single that influenced much of the '80s new wave and beyond. But they're not just a one-hit-wonder. Experience Devo LIVE - get your tickets now!
Celebrate FIFTY years of de-evolution with Devo as they take over US cities this November with their bittersweet farewell anniversary tour! As a parting gift for their beloved fans, the Akron-based new wave band extends their final series of concerts with additional West Coast dates after wrapping up a stint in the UK and Europe—with an opening night on November 5th at the Golden Gate Theatre.
"Devo's farewell tour is a visually, aurally, emotionally and politically intense assault on the senses – with enough costume changes to almost put them in Taylor Swift's league."
One of the most eccentric groups in American music history, Devo styles their concerts with science fiction-inspired costumes, stage visuals, and satirical surrealism. Most have come to know the band through their legendary "Whip It" hit, which broke 14th in the Billboard Hot 100 during its heyday. Many regard this gold-certified record as a keystone for early '80s new wave with its strange lyrics and unorthodox tempo. Going beyond that, Devo produced an expansive discography brimming with genre-shaping tracks, including "Through Being Cool," "That's Good," and "Freedom of Choice." In 2010, they received the first-ever Moog Innovator Award, honoring the innovations they contributed to electronic music.
"I'm in denial. Because I love performing, and I'll hate to see it go. It was part of Devo's DNA. But we did as well as we could, for as long as we could," frontman Gerald Casale shared in an interview.
Here's the setlist from one of the tour's recent London shows for a sneak peek of upcoming ones.
Rod Rooter Now Video
Don't Shoot (I'm a Man)
Peek-a-Boo
Going Under
That's Good
Girl U Want
Whip It
Planet Earth
Carl Sagan Video
(I Can't Get No) Satisfaction
Secret Agent Man
Uncontrollable Urge
Mongoloid
Jocko Homo
Smart Patrol/Mr. DNA
Gates of Steel
DEVO Corporate Anthem Video
Freedom of Choice
Gut Feeling (Slap Your Mammy)
Beautiful World
Devo will be lighting up San Francisco, California, this Sunday, November 5th, on their must-see LIVE concert at the Golden Gate Theatre. Vaudevillian in origin, this indoor venue presents a gorgeous historical backdrop that contrasts interestingly against the retro-sci-fi vibe of the performing group. Guests are also treated to fantastic vantage points from anywhere across 2,200 seats, with acoustics and lighting tuned to perfection. Get your tickets today and send Devo off with your loudest encore!