Golden Gate Theatre | San Francisco, California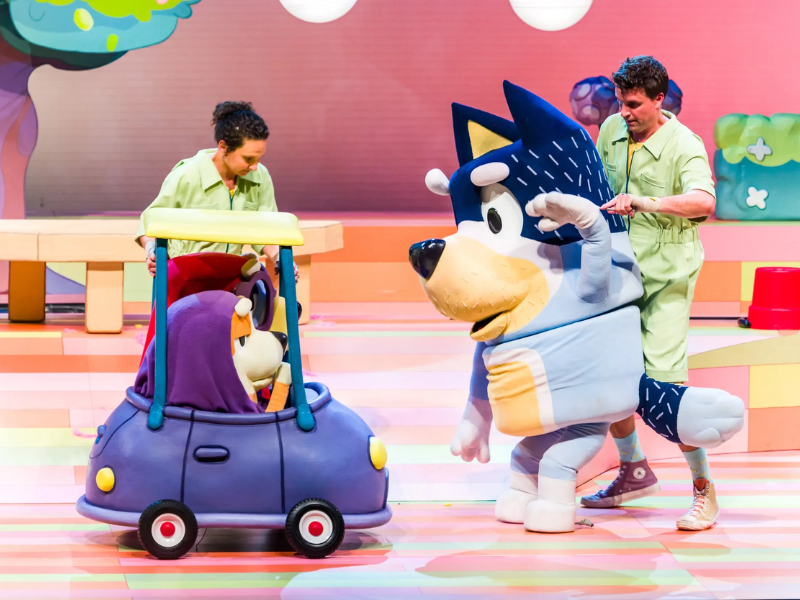 Sticky geckoes and duck cakes abound! Bluey's Big Play - The Stage Show is heading for the Golden Gate Theatre on January 13! It won't be such a quiet day for Bandit as his two tiny pups have BIG things planned! Look forward to Bluey and Bingo's exciting antics in this 50-minute performance full of games and dance parties, featuring a new story by Joe Brumm and original music by Joff Bush. Bluey's Big Play extends its North American tour with ten dozen more city stops scheduled! BBC Studios, in collaboration with Windmill Theatre Co., is thrilled to present the show at San Francisco's Golden Gate Theatre, where audiences can sit back and enjoy the story in absolute comfort and stunning audio-visual experience. Say hello to Bluey, Bingo, Bandit, and Chilli on Saturday, January 13, next year, as Bluey's Big Play pounces on the Golden Gate Theatre. Book your tickets now!
Your favorite family of fun-loving dogs invites you and your kids for an interactive theatrical experience! Remember the date for Bluey's Big Play: January 13 at the Golden Gate Theatre!
"Brumm has a knack for writing about the ways love and respect can sustain families, especially when it comes to depicting the power of imagination and play in their many varied forms."
The multi-awarded Australian cartoon that changed children's entertainment comes to life in this rollicking stage spectacle! Extending its US tour by another year due to popular demand, the play will push through July, with 120 more stops added.
Bluey's Big Play, directed by Rosemary Myers, will feature a new story by creator Joe Brumm, an original score by composer Joff Bush, and designs by Jonathon Oxlade. It will also use the pre-recorded voices of Dave McCormack (Bandit), Melanie Zanetti (Chilli), and the unnamed actors of the adorable Heeler sisters.
Watch Bluey and Bingo's tag-team efforts in getting Dad to bounce off his bean bag to join them for an afternoon of family fun! Blown into full life-sized puppets, these rambunctious puppies will turn the entire stage into their playground using vibrant set pieces. Bluey's Big Play is a real-world wonderland for children and children at heart with its dance parties, games, and endlessly heart-melting charm!
"It's about a family that loves each other. It reminds you of how funny and weird kids are and how hard but rewarding parenting them is. It comes from a very real place. It's just my life with my kids, in dog form," creator Joe Brumm shares in email correspondence.
In association with Windmill Theatre Co., BBC Studios presents the 50-minute event to adoring San Francisco fans at the iconic Golden Gate Theatre. The former vaudevillian venue guarantees a fantastic viewing experience for audiences of all ages thanks to its cozy seating arrangements and state-of-the-art audio-visual productions.
Bluey's Big Play is visiting the Golden Gate Theatre, San Francisco, on Saturday, January 13, next year! It's still a bit far away, but it pays to be an early bird. Book your family's seats now!