Golden Gate Theatre | San Francisco, California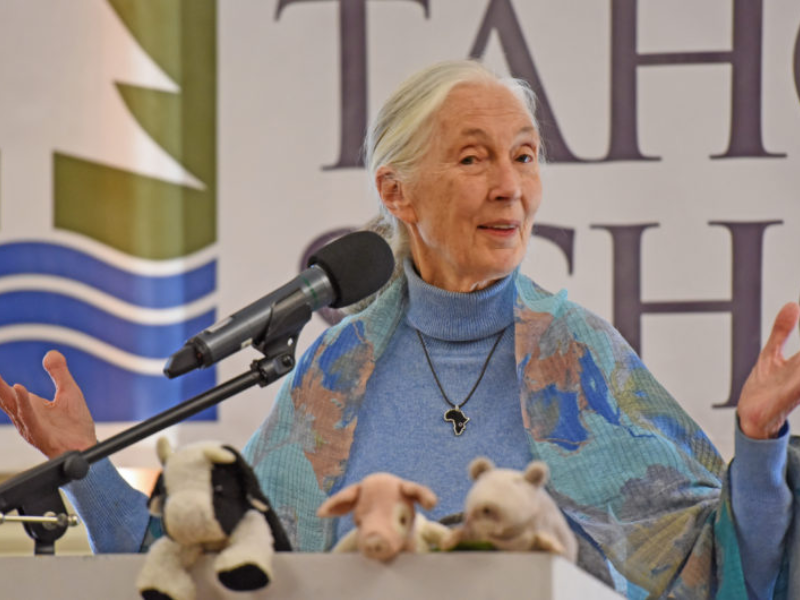 The world-renowned primatologist Jane Goodall is on her way to the Golden Gate Theatre on September 15th, 2023! This wholesome event will be part of her "Reasons For Hope" four-date tour, which crosses South Carolina, California and Massachusetts throughout the month of September. Get lost in a two-hour conversation with the anthropologist, ethologist, and UN Messenger of Peace as she discusses her scientific breakthroughs, shares her extraordinary career with the audiences of San Francisco, and answers the most crucial questions about her field! Over the course of an incredible five decades of research that began with her travels to Tanzania, she rose to become the top authority when it comes to chimpanzees and other primates. She founded both the highly successful Jane Goodall Institute and the Roots & Shoots initiative to generate money and public awareness while also working diligently as an animal rights and environmentalist advocate. Reserve your seats here today!
"She created, in fact, a relationship between the scientific world and one community of chimpanzees that has grown far beyond what one woman could do" - National Geographic
On her Reasons For Hope tour, the well-regarded primatologist Jane Goodall will visit the Golden Gate Theatre this September 15th! This upcoming four-date tour covers two nights in San Francisco, in addition to scheduled programs in Charleston and Medford, before she travels to New York for her "In Conversations" event.
Dr. Jane Goodall is one of the most important figures that constantly remind us of the beauty and importance of our surroundings. Join the ethologist and activist in this two-hour live event as she takes the stage to speak about her work and life while setting out to answer the audience's biggest questions. She is best known for her ground-breaking research on wild chimpanzees in Tanzania's Gombe Stream National Park, which fundamentally altered our perception of how humans interact with other animals. This longest-running study of wild chimpanzees is still ongoing today.
"Jane Goodall's observations of chimpanzees in the wild challenged conventional wisdom about what made humans exceptional. Brett Morgen's documentary "Jane," which tells Ms. Goodall's story largely through footage of her expeditions, is such an absorbing account of her experiences at a reserve in what is now Tanzania that you may not pause to think about how its imagery was captured," The New York Times shares.
Additionally, her international organization, the Jane Goodall Institute, supports youth empowerment through the Roots & Shoots program, community-led conservations, animal welfare, and scientific innovations.
Since receiving the Templeton Prize and the publication of her most recent book, "The Book of Hope: A Survival Guide for Trying Times," Jane has continued to engage with audiences around the world in person and virtually through sold-out, remote and live lectures, recordings, and her podcast, the "Jane Goodall Hopecast."
The Golden Gate Theatre has long been a monument for hosting the best Broadway shows, operas and live productions. Get familiar with the vision and work of Dr. Jane Goodall in this prestigious event for one night only at the historical venue located in San Francisco!
Purchase your tickets now while seats are still available!