Golden Gate Theatre | San Francisco, California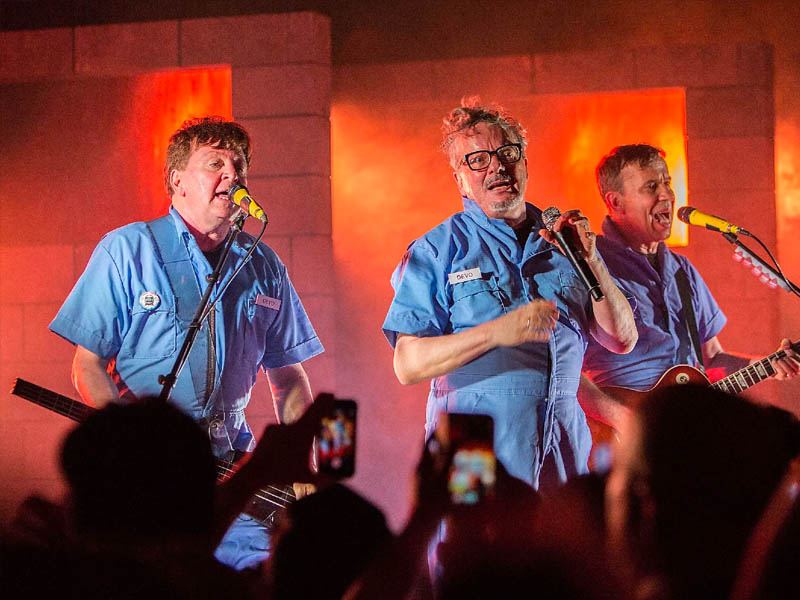 This fall, the iconic Devo just added several more dates extending their highly-anticipated Farewell Tour Celebrating 50 Years of De-Evolution! The iconic new wave band known for hitting it big in the '80s with the massive hit "Whip It" will now perform in 16 major cities, including a coveted stop in San Francisco, California! Enjoy a nostalgic trip of synthesizer staples and electrifying jams as Devo celebrates this incredible milestone with a fantastic show at the Golden Gate Theatre on Tuesday, 14th November 2023! Fans can look forward to Devo's critically-acclaimed career-spanning hits and high-energy performances on this one-night spectacle of their various music styles, ranging from synth-pop to post-punk, rock, and electronic rock! Join this outstanding gig and see one of the most prolific purveyors from the '80s as they perform their farewell tour this fall! Secure tickets now to see Devo at the Golden Gate Theatre by clicking on the Get Tickets link!
Devo's The Farewell Tour Celebrating 50 Years of De-Evolution is a must-see among '80s music fanatics. Emerging in the late '70s, the band became humorous icons of new-wave, donning wacky-looking hats and starring in hilarious music videos. Devo has achieved an incredible milestone, and they're set to celebrate their fifth decade in music with fans. The 2023 Farewell Tour kicks off in the summer with dates in Europe followed by a string of west coast performances during fall. Devo will embark on a brief seven-date trek covering Washington. Oregon, and several cities in California.
As for the upcoming setlist, fans can anticipate Devo to deliver their career-spanning hits. Since 1978, Devo has released nine studio albums, their latest being Something for Everybody, released in 2010. In 1978, the band made their phenomenal breakthrough with their debut album, Q: Are We Not Men? A: We Are Devo! The album entered the charts in several countries and sold half a million copies in the U.S. Surely, Devo will consider belting out hits from the record, such as the massive staple "(I Can't Get No) Satisfaction" and "Jocko Homo."
Fans can also surely look forward to hearing the band's biggest song, "Whip It," from their 1980 album, Freedom of Choice. The record became their highest charting effort to date, peaking at number 22 on the Billboard 200. Meanwhile, "Whip It" entered the Billboard charts, peaking at number 14 on the Hot 100 and number 8 on the Dance Club Songs chart. The single was later certified gold in the U.S. and Canada.
Some of Devo's recent setlist from their 2023 shows included staples like "Mongoloid," "Peek-A-Boo," "Gates of Steel," "Beautiful World," and "Girl U Want." Aside from providing fans with an exceptional musical trip, the Farewell Tour also promises to feature a visually stunning production. This 2023, Devo is set to deliver some of the most memorable shows of their career.
On Tuesday, 14th November 2023, Devo is set to light up the Golden Gate Theatre. If you're keen on catching Devo perform in an excellent venue, you should consider seeing them during their San Francisco stop. The Golden Gate Theatre is an outstanding venue known for its prime location and rich history of hosting some of the city's most exciting events. Opened in 1922, the historic landmark has undergone several refurbishments and renovations to update facilities providing guests with a pleasant entertainment experience!
See Devo at the Golden Gate Theatre on Tuesday, 14th November 2023, by securing your tickets now!