Golden Gate Theatre | San Francisco, California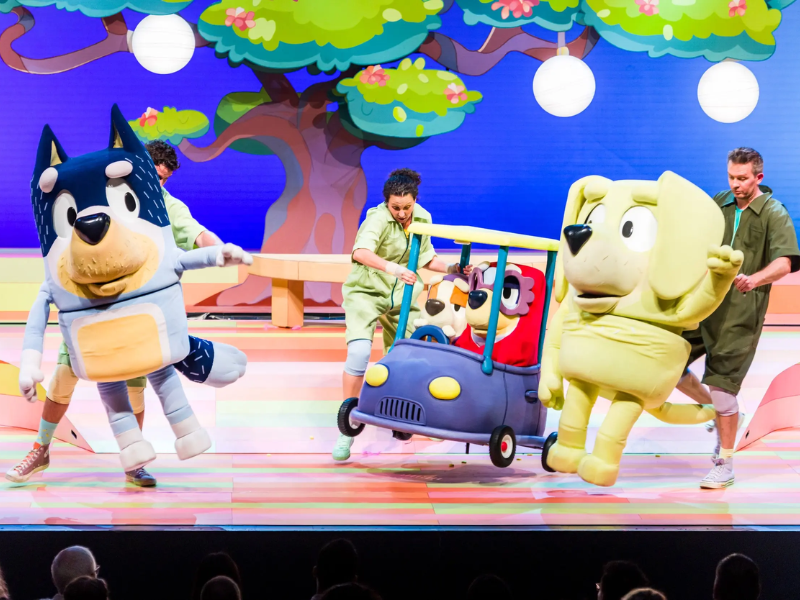 The Heeler family comes barreling back again on January 14 for the day two showing of Bluey's Big Play LIVE at the Golden Gate Theatre! Watch Bluey and Bingo's clever plans to get Bandit off his bean bag and into the fray of a fun Sunday afternoon! Bubble machines. Giant balloons. And familiar games from the animated series! Join them in the interactive stage play that showcases striking set pieces, live actors, and incredible life-sized puppets. Presented by Andrew Kay and BBC Studios, the first live adaptation of the hit children's series features a new story by Joe Brumm and music by Joff Bush. The tour–extended for another twelve months–will stop by San Francisco's Golden Gate Theatre, an indoor venue offering perfect sightlines to a beautiful backdrop from anywhere in its cozy seating area. Buy your tickets now for another round of family fun time with Bluey's Big Play!
One day ain't enough! Let's go play some more on Bluey's second show at the Golden Gate Theatre on January 14. Bluey's Big Play welcomes everyone for another outing that's sure to strengthen bonds between kids and parents through the joys of family playtime!
Due to popular demand, the first-ever live stage adaptation of the Emmy Award-winning animated series extends its North American tour to July 2024. That's twelve more months with ten dozen more shows on schedule!
"We've received many, many requests for additional tour dates, and we're so pleased that more fans will be able to see Bluey's world come to life in their hometowns," shared Windmill Theatre Co. artistic director Rosemary Myers.
Sunday afternoon. You're an archaeologist lazing around on a bean bag. Wait, where are your pups!? But it's too late. Their plan is in motion, and they're unleashing a creative wave of games and shenanigans to get you up and playing with them. Bluey's Big Play showcases larger-than-life puppets, cameos, live actors, and stunning set pieces in this interactive spectacle stuffed with bubble machines, dance parties, and good ol' fashioned fun!
"It's an incredibly fun, energetic performance, but there's also plenty of heart and smart explorations of concepts that are tricky to grapple with for both children and adults," Jason Reed wrote in his 5-star review in The Guardian.
"The Bluey creator, Joe Brumm, who adapted it for the stage, brings the same nuance and magic that he's established across more than 100 seven-minute episodes of the series."
BBC Studios and Andrew Kay proudly present the 50-minute stage play featuring pre-recorded tracks from the television show's cast: David McCormack as Bandit, Melanie Zanetti as Chilli, and the unnamed child voice actors as Bluey and Bingo. It will also exhibit a new story by creator Joe Brumm, design by Jonathon Oxlade, puppetry direction by Jacob Williams, and original music from Screen Music Award winner Joff Bush.
Bluey will stop by for a playdate at San Fran's Golden Gate Theatre. Make sure you meet her there because this venue is one of the country's greatest theatrical sites, an intimate historical backdrop with fantastic views from anywhere in its cascading rows of deluxe seats.
So, what are you waiting for? Grab your tickets now for day two of Bluey's Big Play at the Golden Gate Theatre on Sunday, January 14, 2024.