Get ready for one of the most important, unusual, and quietly groundbreaking musicals of recent times. Daring to touch risky subject matter with compassion, grace and kindness, Come From Away tells the remarkable little-known true story of the other planes on the day of 9/11 – 38 full jets full of people forced to land unexpectedly in the small town of Gander, Newfoundland and Labrador, as part of Operation Yellow Ribbon, and the reactions of the residents to the new arrivals. A story of strength and courage in the face of adversity, Come From Away is a uniquely real musical, and its messages have never been more relevant than they are today. If there's one performance of any kind you must see this year, this is it. Choose your show from the following list of dates and book early to be sure of the best seats!
Come From Away Tickets: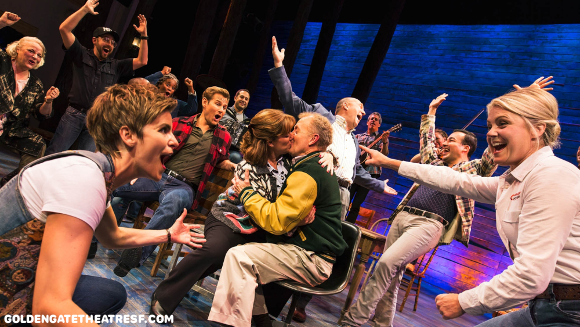 "Canadian hospitality doesn't seem like grist for drama, but this gem of a musical, by Irene Sankoff and David Hein, makes kindness sing and soar" – The New Yorker
Workshopped in 2012, Come From Away was first shown at the Sheridan College in Oakville, Ontario in 2013 From there, it went on to break records at the La Jolla Playhouse and the Seattle Repertory Theatre in 2015 before opening on Broadway in 2017 – and becoming an overnight success with critics and audiences alike, regularly playing to standing-room-only audiences!! It was nominated for an amazing 7 Tony Awards, Best Musical, Best Score, Best Book of a Musicaland Best Featured Actress in a Musical, and winning the award for Best Direction of a Musical. The musical was also nominated for 9 Drama Desk Awards, winning the awards for Outstanding Musical and Outstanding Book Of A Musical.
"A story of how people fought terror with love and helplessness with compassionate action. It's hard to imagine a "feel-good" musical based on 9/11, but Come From Away is nothing if not relentlessly and unabashedly life-affirming" – CBC News
Come From Away's unique strength lies in its careful tackling of the events of 9/11 from those directly impacted by, but not involved in the tragedy itself – the passengers of 38 planes left circling with nowhere to land, eventually settling in Canada. Forced to sit for over 24 hours on board with no idea what was occurring in the world outside, the story follows the lives of central key characters, based off (and in some cases sharing the names of) real people on board. Part of the musical's appeal is in its meticulously researched attention to real-life detail.
"We were lucky enough to go out there and spend almost a month interviewing people," co-founder David Hein said. "The rest of the press was there trying to get five-second soundbites and we ended up talking to people for four or five hours and just came back with thousands of stories that we couldn't wait to share."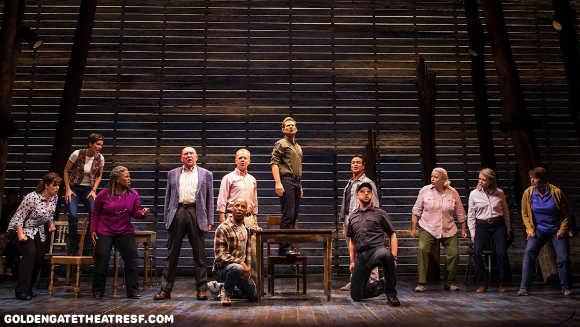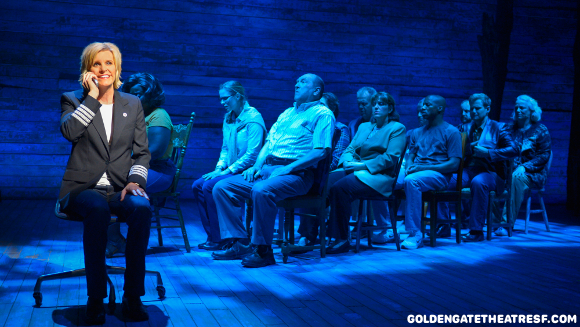 "The genius of the show is that it approaches 9/11 obliquely and tells a little known and hugely uplifting story in its margins" – The Guardian
Eventually allowed to disembark without their luggage and packed onto buses with no idea where they're headed, the passengers are given accommodation for the night, and learn what has occurred by watching the news. It's a powerful moment, bringing back the unreal terror of the day in a manner that perfectly resonates with the audience, without needing to dive into the tragedy head-on.
From there, the passengers need to survive while stuck in limbo – and the residents of Gander, who's population has almost doubled overnight, rally together to help, inviting the newcomers into their homes, providing food and shelter. As the passengers are from all over the world and from different walks of life, this leads to some fascinating scenarios with the predicaments of various characters, a gay couple scared of the reactions of a conservative population, an airline captain scared for her colleagues, and a mother desperate for news of her son.
Usual barriers are cast aside, solidarity wins and friendships are formed in this strange, unexpected bubble. Come From Away is a story that shows the very real compassionate, caring capacity humans have shown to one another in times of extreme need, and it's not to be missed.